Great Eating Places
Illinois
(IL)
The Wiener's Circle
- Chicago, IL
The hot dogs are pretty tasty, but we really liked that it was IN Chicago. My parents said "the other patrons were entertaining." The lady making the dogs wasn't very nice, but it is where the locals go for a good hot dog. CASH only.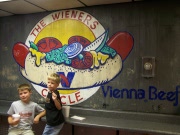 Giordano's
- Chicago, IL
The best Chicago style pizza ever. The people that brought us the pizza were really nice too. It was almost like being in TX.
The Ariston Cafe
- Litchfield, IL
A homey little place in the middle of nowhere on Route 66. Home cooking like mama makes.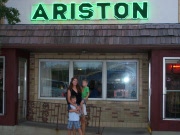 Missouri
(MO)
Pappy's Smokehouse
- St. Louis, MO
We really like TX BBQ better than anywhere else, but this place served some awesome pork. Their sauce is sweeter than TX style, but their ribs were finger-licking! They had different sauces to choose from, but I liked the sweet one.
New York
(NY)
The Anchor Bar
- Buffalo, New York
Hot wings at the coolest wing spot. The original hot wing spot is a great place to pick up a snack after a day at Niagara Falls.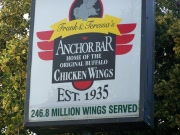 NYC
-Any hot dog vendor in New York City can sell you a good dog. Our favorite stands were in Central Park and Battery Park.
We also liked the street vendors in Chinatown. All the food was really good; my parents liked it because it was cheap.
Carnegie Deli
-New York City, NY
You should buy a sandwich and some extra bread, then get it to go and take it to Central Park for a picnic. The Deli was very crowded and the line was very long. The ginormous sandwich was worth it though. BUT, one sandwich was enough food for all 4 of us (& we're Texans, so we love food)!
Pennsylvania
(PA)
Jim's Steaks
- Philadelphia, Pennsylvania
The most incredible cheesesteaks ever and not too far from Independence Hall and the Liberty Bell.
Tennessee
(TN)


Archers BBQ
- Knoxville, TN
Very good BBQ, but its not as good as the Salt Lick, but nothing is. The sweet potato chips were some of the best we have every had.
Central BBQ
- Memphis, TN
It's still not TX BBQ, but the pork is tasty! They have pretty good sausage and some good chicken too. It's definitely a place for good eats if you're visiting the home of Elvis.
Loveless Cafe
- Nashville, TN
This plave is really good and very similar to Babe's chicken house in the Dallas / Fort Worth area. It is really good and worth the wait.
Texas
(TX) - our home state

The Big Texan
- Amarillo, Texas
A great steak and a great place to eat it.
Threadgills
- Austin, Texas
Good home-cooking in downtown Austin.
The Salt Lick
- Driftwood, Texas
The best barbeque on the planet.
Mel's Burgers
- Copperas Cove, Texas
Great big juicy burgers, fries, and tasty shakes. Cash only.
Po's Burgers
- Houston, Texas
The best burgers in Houston. Sadly, Po's is no more and it has been taken over by the Shack. We hate to see you go Pos.
Kitty's Purple Cow
- Surfside, Texas
A great place to have a burger on the beach.
We only list the best eating places!